Parents' Night Out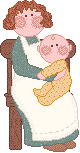 ***Sorry. There are no parent's night out's currently scheduled***
"A fun night for children while their parents get away!"
Parents Night Out is a service offered to families
with children ages 6 weeks through 7 years.

When: Every other Friday as requested

Time: 7:00 PM to 11:00 PM

Cost: $10.00 per child

Children do not need to be enrolled in the full time day care and preschool program to attend Parents' Night Out
By reservation only please, as space is limited
Is it fun?
Parents' Night Out is a blast!
Children come in pj' s
playtime
theme-based activity
nutritious "kid-approved" snack
movie
Go Back To: